Best Forged Irons
Forging is often a process that golfers relate with soft feel and great control throughout an cavity back iron set. The misleading part of forging is that many cavity back clubs can be "forged" while the entire golf club isn't actually forged from a single block. The very best forged irons or cavity back irons […]
Forging is often a process that golfers relate with soft feel and great control throughout an cavity back iron set. The misleading part of forging is that many cavity back clubs can be "forged" while the entire golf club isn't actually forged from a single block. The very best forged irons or cavity back irons combine distance, feel, ball speed and forgiveness for players of all handicaps and swing speeds. More and more forged irons set of clubs and cavity back irons are used as a equipment.
Regardless of your skill level, forged irons and cavity back irons offer you a chance to hit golf shots that are longer, more accurate, and excellent in feel and response. Many of the forged irons in our list rival larger iron shapes in terms of distance and forgiveness and are used by lower handicap players. It is possible to get the best of both worlds and we explain how continuing in this guide. We hope to help you in choosing your best forged irons for your best golf game.
Top 10 Best Forged Irons
Cobra Radspeed Iron Set
The RADSPEEDTM irons are a huge advancement in golf technology. The first application of 3D printing in golf club design is combined with a breakthrough in weighing technology, raising the bar for performance and technology to new heights.
A 10g weight placed low and in the toe area stabilizes the CG and increases distance and forgiveness on off-center shots. 3D printing allows for unrestricted design intricacy, allowing us to create a sophisticated lattice medallion structure that saves weight and improves feel.
Taylormade Sim2 Max Iron
With the all-new Cap Back design, you'll be able to hit better shots more often. SIM2 Max has an intelligently optimized sweet spot to provide golfers with better performance where they need it the most.
The SIM2 Max irons feature a fast and forgiving face to provide golfers with more performance exactly where they need it. The new face design is fast, flexible, and extremely forgiving, designed to approach the legal limit.
TaylorMade technology is patented and designed to maximize face flexibility for increased ball speed and forgiveness for mishits low on the face.
Srixon ZX4 Iron
The hollow design of the ZX4 provides a good address profile while also offering our most powerful forgiveness to date. It's a game-changing combination that opens up Srixon irons to a whole new group of players who prefer game-improvement gear.
Even if you strike slightly behind the ball, the V-shaped soles glide smoothly through the turf. Our popular sole notches have made a comeback on the ZX4 irons. The grooves on the 8i through PW are sharper, narrower, and deeper, resulting in more spin and stopping power on approach shots into the green.
Mizuno JPX921 Hot Metal Iron
Mizuno's fastest ever ball speeds are combined with a piercingly straight ball flight and adjustable landing angles in the JPX921 Hot Metal irons. The JPX921 is the third generation of Mizuno irons that use Chromoly's robustness, and it boasts the most complicated face geometry to date for more energy from the clubface. Choose the Pro version for a profile that is more compact and has a lower offset.
Our 3rd generation of Chromoly-based iron design and manufacture is currently being tested to its limits. The CORTECH face has been re-engineered. The central point is 2mm thinner. Off-center strikes are stabilized with additional perimeter weighting and toe bias.
Callaway Golf 2021 Apex Iron Set
The NEW Apex 21 Irons provide a level of forged performance and craftsmanship that has never been seen before. They're the first forged irons to use Artificial Intelligence to increase ball speeds and spin uniformity. Our huge Tungsten Energy Core provides increased forgiveness, and the shape has been improved for even greater turf engagement. In a nutshell, these irons give legendary performance and feel with every swing.
Apex is the first forged iron created with artificial intelligence, and it's designed to give exceptional performance and an iconic feel with every swing. Nothing compares to our best.
Mizuno JPX 919 Forged Irons
Slightly more forgiving and higher launching than the JPX919 Tour model, the JPX919 Forged iron set is a great selection for the majority of golfers. With a head size that is not intimidating behind the golf ball and enough perimeter weighting to help protect you against mishits, the JPX919 forged golf set is an obvious choice for players that want Mizuno look and feel without sacrificing performance. They often are like game improvement clubs. The JPX forged iron range is one of Mizuno's most popular and for good reason. User-friendly shapes and club head construction combined with stunning visual shapes and the patented Grain Forged feel make the JPX919 Forged iron popular for golfers of all skill levels and handicaps.
Titleist 620 Irons
Boost your performance while playing the Titleist 620 forged Irons. Designed to provide ultimate playability and precision, the one-piece forged cavity back irons deliver a traditional player's look and feel with tour-proven swing control. Their longer irons provide great distance and higher launch even though their center of gravity is higher. Progressive blade lengths with thinner top lines allow for incredible shaping and optimized play throughout the round. A co-forged iron high-density tungsten in the 3- and 4- irons promotes explosive ball speed and forgiveness for top-level long iron performance. Reduced offset and topline allow for the ultimate player's look, while enhancing workability and shot control. They have graphite shafts option.
Cobra King Tec Irons
The Cobra KING forged Tec golf Irons deliver distance, consistency and playability in a compact mb shape. A classic, muscle back irons shape conceals an unassuming hollow core that delivers a low center of gravity and controlled distance for maximum playability. A hollow cavity is infused with foam microspheres that fine-tune acoustics and create a softer feel for this forged iron. One of the best overall forged set of irons even for better player with low handicap or high handicappers with low center of gravity. Their longer irons that come in the new set provide great performance.

CNC milling is a highly precise manufacturing method that is typically only found in forged player's irons on the market. Their cnc milled face have larger sweet spot. Also it have better look and feel. This process allows us to create perfectly flat faces, and precise lofts and groove shapes in every forged iron we manufacture. Perfect players iron golf equipment which have feel at impact.
PXG 0311 P Gen3 Irons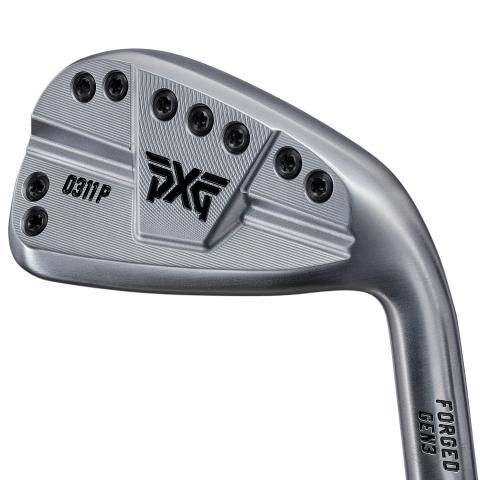 PXG x forged iron clubs are customized and built to spec to maximize performance on the course and increase your enjoyment of the game. Every iron provide feel at impact. Let a PXG Fitting Specialist "dial in" your PXG GEN3 forged Irons at a course near you. 0311 P GEN3 golf club is the ideal balance of playability and forgiveness and appeals to a wide range of golfers. Their combo set star with 3 iron to 7 iron forged golf irons. Great set of irons for low handicap golfer.

Impact Reactor Technology, powered by a DualCOR™ system, supports significant face deflection during impact to increase face loading and delivers more energy to the golf ball and higher launch. This helps create explosive ball speeds and distance, while maintaining an unbelievably soft, yet solid feel. These forged golf irons have low center of gravity. The new 2020 PXG 0311 P GEN3 forged irons best overall lineup that company has offered, and that's saying a lot.
Mizuno MP-20 Irons
The ultimate Mizuno muscle back – heavily influenced by the most revered blades of Mizuno's past. Grain Flow Forged HD from a single billet of 1025E Pure Select Mild Carbon Steel – then layered with soft Copper plating beneath a protective Nickel Chrome top line for legendary feel and feedback. One of the best forged irons on the market. This set of forged irons provide great distance and forgiveness even they are not cnc milled. They are great for lower handicap golfers and good ball strikers.

Mizuno's thinnest topline of recent generations – a response to feedback from our tour players. The MP-20 #3 forged iron is reduced by 0.05m and pitching wedge by 0.15mm (compared to MP-18). They are great also as game improvement forged golf clubs. Combination of chrome finishing to eliminate areas of high glare in the playing position. Great players irons on the market.
When Do You Use an Iron?
Irons are used from a variety of lies all around golf courses. Your ideal iron set will help you balance how you attack par-3 holes and your approach play on par-4's and par-5's. The versatility of irons or forged irons cannot be overstated and must be accounted for when deciding which model you should purchase.
Finding the Best Irons for Your Golf Game
Your choice of forged iron must fit your eye behind the golf ball. Many forged irons or cavity back can be altered to fit your performance needs and players distance after finding a club head, shaft, and grip combination that feels great through your entire swing and leads to the best impact conditions. Forged irons and cavity back often offer the maximum feedback, players distance and consistency throughout iron sets.
How to Hit Golf Irons Video
Frequently Asked Questions
Beyond which iron set to buy forged iron or not, other questions about iron sets often arise. We have provided some of those questions and brief answer below, for better selection of forged irons or not.
Q: How long do golf irons last?
A: An iron set will often last golfers between 5 and 10 years. Depending on how much you play, how often you practice, and how you care for your forged irons between rounds the life of your cavity back iron sets will vary. You will know it is time to replace your forged irons once the faces have begun to brown or their performance begins to decline.
Q: Where is the sweet spot on irons?
A: Each golf club is built with an internal center of gravity. Hitting the ball with this part of the club face will result in the highest performing golf shots. This center is often referred to as the sweet spot and for most cavity back golf clubs will be in the exact middle of the club face. The same is with the forged iron.
Q: What are game improvement irons?
A: Game-improvement irons are larger, more forgiving golf irons that help players get more from their swing. Forged irons can be in this category also. These larger profile cavity back forged irons can offer players distance, higher launches, more stability, more ball speed and more distance regardless of their swing speed. High handicap golfers, beginners, and slow swing speed players can often benefit from these more friendly cavity back golf clubs.
Q: How do you clean golf irons?
A: Cleaning golf forged iron club faces is essential for maximizing performance and extending the life of your clubs. After each shot, wipe your forged iron club face with a towel and club brush to remove all the dirt and grass from the previous shot. Between rounds, be sure to clean each forged iron with warm, soapy water and a brush. Dry the forged irons fully and store them in a cool, dry place.
What Golf Iron Set Should You Buy?
Golfers are all different in their desires and what they need from their equipment. Each golf club that you add to your bag should fill you with confidence and allow you to hit effortless golf shots. Getting the right set of forged irons often means choosing a club head that looks great behind the ball and feels great through impact. Have great top line, feel and performance and help you get the ball where you want. Many times the largest difference among best forged iron club models is the unique styles and responsiveness they can provide.

Once you have found a club head that fits your visual and swing preferences, matching its build to your delivery and desired performance is key. Going to see a professional club fitter or lower handicap tour players can help you dial in each forged iron and give you proper distance gapping through your entire set. Matching the shaft and grip to your swing will ensure more consistency round-after-round.

Keep budget and the rest of your golf bag in mind as the forged irons become one part of your whole golf club set. Balancing your need for hybrids, fairway woods, and wedges is important. Be sure to test each forged iron golf club model first before making your buying selection. Use this fitting process to learn more about your game and ways that you can improve with game improvement clubs. We hope that we help you in choosing your new forged irons. As always, thank you for reading and happy hacking and finding your x forged players irons!