Blade putters are a favorite for golfers. The Ping Anser shape has been remade hundreds of times. Not all things that look alike are however and even though all the putters on this list are compact they pack different tech than can help your game this season.

A blade putter is much simpler in design when compared to a mallet putter and is typically a favorite among golf purists because of its traditional and test of time appearance. If you want to see a blade putter in it's most simple form – simply just take a look at the very low-grade equipment that you are issued at just about any mini-golf course. They have often milled face.
Obviously, the blade putter style gets its name because it has a straight, blade-style club head with a narrow body – hence the name blade putter. But don't let those childhood (and maybe for some people, the current) mini-golf putters fool you, blade-style putters have stood through the test of time despite all the advanced technology.
Blade putter is heavily weighted-toe and because the shaft connects to the club head at the heel of the blade, distributing the weight in a specific manner. Sometimes the shaft is placed closer to the center of the blade putter, the sweet spot is moved closer toward the heel. Due to the weight distribution between the toe and the heel, best blade putter is more suited for someone with an arc stroke when they putt.

Pros Of A Blade Putter:
Works well on fast greens
Helpful for arc stroke putters
Tremendous feel and control
Consistent impact
Suitable for people that want precision-based performance


In this roundup, we take you through what makes this brand of putters so unique and how they may be able to help your game. These putters offer the cleanest lines and highest proclaimed aesthetics. We have broken down each part of this quintessential piece of golf equipment and laid out the best blade putter models in the market for you.

Top 8 Best Blade Putters
When Do You Use A Putter?
All putters are used from the green and when the golf ball is resting on the short grasses and fringes around the greens whether they are blade or mallet putters. Blade putters can be especially useful when playing the ball from mid-length grasses near the green because of their squat designs. Players should feel comfortable using their blade or mallet putters from bare lies and when hitting a wedge is difficult.
Finding the Best Putter Your Golf Game
Which putter is best for your game is highly specific to the ingredients you bring to the putting surface. If you are in the market for a blade putter, you are likely a golfer who loves looking at crisp, straight lines and does not enjoy distractions. No matter what you putting preferences are, matching the right putter to your putting motion requires several things.

A putter should match your release pattern in its shape and hosel setting. The grip and shaft of the club should allow you to set up in a natural, relaxed posture that gets your eyes in the correct position and allows you to swing the club smoothly back and beyond the golf ball. Getting these things right when choosing your putter can give golfers more confidence and lead to lower scores.
Frequently Asked Questions
Many questions come with putter buying. We have answered the most frequent to help you find the model that is best for your game.
Q: How do I know which putter is best for me?
A: Great putters share similar characteristics when paired with the right golfer. Your putter should help you perform a stroke that is natural for you. by choosing a head shape and hosel that create the proper arc you will achieve your most consistent putting results. Coupling that with a shaft length that sets your eyes in the proper position over the golf ball and a grip that allows you a tension free release gives you the best chance of holing more putts.
Q: How often should I clean my putter and the grip?
A: Keeping your putter grip clean will help keep the surface tacky on the putter grip feeling just like the first day you got it. This will also help you from preventing your hands and grip from slipping making sure your grip pressure doesn't need to change – this is a very key point for those that play without gloves especially. Cleaning your putter grip more often than not is an absolute must but that doesn't mean its easy to remember to do. Cleaning your putter grip after every round using wet wipes can make maintenance on a regular basis easier and is something you can easily remind yourself to do after every round. Alternatively, once every couple of months or when your feeling your grip lose tack or change color, then it's time to clean your grip.


How to clean your putters grip
What do you need:
What to do:
Remove a wet wipe from the package, and reseal the package. Take the wipe and wipe down your putter grip until clean.
This method is best for after every round of golf as it will keep putter grip maintenance down and ensure you don't have to cleaning your putter grip with warm water and soap too often.
Q: What is the most important factor to consider when buying a blade putter?
A: Due to the correlation between putting success and golfer's confidence, finding a blade putter that you enjoy looking at and helps you aim at the target is ideal. Once you have garnered those two things, matching your arc style with the proper shapes and hosels is next. It's always a good idea to go to your local golf club dealer and speak with them. Having professional input as well as being able to practice putt with different brands can make the purchasing process very easy.
Q: When should I use a putter from off the green?
A: Anytime you can get more near the hole with your putter than a wedge you should use the putter. Using the putter from bare lies can help golfers improve their consistency over their wedges. Practicing shots from several different lies with your putter during your golf practice or rounds is the best way to know when you should be opting for your putter over your wedges.
Q: Should I switch putters if I'm not putting well?
A: Anytime you choose to add a new club to your bag it can invoke excitement and confidence. This is especially the case with the putter. Because this club is used more than any other during your golf rounds, making one club change from blade putter to mallet and vice versa in this part of your bag can have a dramatic influence on your scores.
Top 8 Best Blade Putter
L.A.B. B.2 Putter
The B.2 has been created to open the door of L.A.B. Golf's superior performance to the blade putters market. Golfers that simply like to look down at a blade putter or who aim smaller shapes more accurately can now receive the full benefits of the Lie Angle Balance system in an elegant shape. B.2 is a blade putter that will be built precisely to golfer's exact specs and enable them to free themselves of torque during their putting motion and is perfect for golfers that want to upgrade their performance on the greens.

The B.2 blade putter is available directly from L.A.B. Golf. Each putter is hand built based on a golfer's specs. Golfers can be fit remotely for either the DF 2.1 or B.2 putter thanks to L.A.B.'s proprietary fitting system and symmetrical designs. The B.2 can be custom ordered in either stainless steel or brass with a variety of grip shapes and taper profiles. Length, loft, and lie can all be tuned to ensure a new L.A.B. blade putter is your best fit.
Set Lowest Price Alert
×
Notify me, when price drops
Set Alert for Product: LAB B.2 Putter - $425.00
SeeMore Si2 RST Hosel Putter
The SeeMore Si2 RST putter is for any golfer that loves the alignment advantage SeeMore blade putters can deliver but has been holding out for more traditional shapes. The new look of the RST hosels combine the forgiveness of the centered shafted design with the traditional appearance that may make the RST line of the blade putters appeal to even more golfers. If you love looking down at the traditional line but want to know you are aimed perfectly each time, the new RST putters are for you.

The RST Hosel Series from SeeMore features 7 total models. The Si2 in this review, the Si3 mid-mallet, Si5 full-mallet, HT Mallet, Platinum HT, Platinum M7 Tour, and Platinum SB20. All SeeMore putters feature the RifleScope Technology that allows golfers to precisely aim their putter by covering the Red Dot with the putter shaft. The Si2 blade putter is heel and toe weighted blade putter designed for golfers looking for more forgiveness, softer feel and technology in a traditional shape.
Set Lowest Price Alert
×
Notify me, when price drops
Set Alert for Product: New SeeMore Platinum M5 HT Putter 34" RH - $347.00
Last Amazon price update was: September 13, 2021 7:53 pm
×
Product prices and availability are accurate as of the date/time indicated and are subject to change. Any price and availability information displayed on Amazon.com (Amazon.in, Amazon.co.uk, Amazon.de, etc) at the time of purchase will apply to the purchase of this product.
Callaway Odyssey Stroke Lab Triple Track Double Wide Putter
Improve your putting game with the Odyssey Stroke Lab Triple Track Putters. Grounded from Callaway's popular golf ball line, the putters combine Odyssey's Stroke Lab newest innovations to provide you with a high-tech blade putter that is engineered to help any golfer make more putts. Triple Track Technology features three sight lines that frame the ball at address for a smoother and more accurate stroke. The new Microhinge Star Insert allows for consistency and distance control while providing incredible sound and feel. Double wide blade design with the performance of a mallet that helps golfers easily sink putts. Triple Track Technology features Vernier Hyper Acuity, same visual technology used to land planes, for improved alignment and accuracy. Three sight lines, developed from Callaway's popular golf ball line, frame the ball at address providing a powerful alignment feature. Stroke Lab Technology incorporates a unique method of weight distribution designed to increase feel for the putter head to help golfers repeat a smooth stroke. This Odyssey Stroke Lab putter is one of the best blade putter on the market.
Set Lowest Price Alert
×
Notify me, when price drops
Set Alert for Product: Odyssey Triple Track Double Wide Putter - $249.99
Last Amazon price update was: September 13, 2021 6:17 pm
×
Product prices and availability are accurate as of the date/time indicated and are subject to change. Any price and availability information displayed on Amazon.com (Amazon.in, Amazon.co.uk, Amazon.de, etc) at the time of purchase will apply to the purchase of this product.
Ping Heppler Anser 2 Blade Putter
Experience maximum firmness and forgiveness in your short game with the PING Heppler Putters. Constructed with a machined, solid face, the Heppler line is made up of multi-material mallets and mid-mallets that provide maximum forgiveness and optimal CG for increased accuracy and consistency. Lighter aluminum was engineered with steel through strategic shaping and weight placement to deliver the high MOI designs. Stiffer adjustable shaft length technology – concealed with the grip – helps golfers find their optimal fit.

Multi-material mallets and mid-mallets that provide maximum forgiveness and optimal CG for greater accuracy and consistency. Mid-mallet profile and medium overall head weight increase proficiency and performance from any distance. Traditional heel-toe ballasts, pleasing contours and a simple alignment line boost confidence at address.
PXG Brandon Gen2 Putter
The Brandon is a modern take on a traditional blade-style putter design. Milled 303 stainless steel. Subtle milled ballast levels and a high-contrast center stripe. Precision Weighting Face Technology in the sole of each putter keeps club head mass weight distribution through a series of weights to increase MOI. Weights are made from heavier tungsten and lighter titanium and are available in 5g, 10g, 15g and 20g options. Every putter has an adjustable range of at least 30g – 10g down and 20g up. It provide great consistent roll.

The number of weights in the sole and overall mass varies by model, as well as by hosel selected. Fine-tuning will alter the weight of the head and can influence the initial launch conditions to counter pull or push miss tendencies. The longest of the 3 options, the double bend hosel raises the shaft axis to align with the center of gravity. This face balanced design minimizes resistance to twisting, assisting players who tend to push the ball. For players that prefer a center-shafted putter, this option raises the shaft axis to match that of a center-shafted putter, which mimics a face balanced style. Players who don't want so spend so much on great putter this is a great choice.
Titleist Scotty Cameron Newport 2 Putter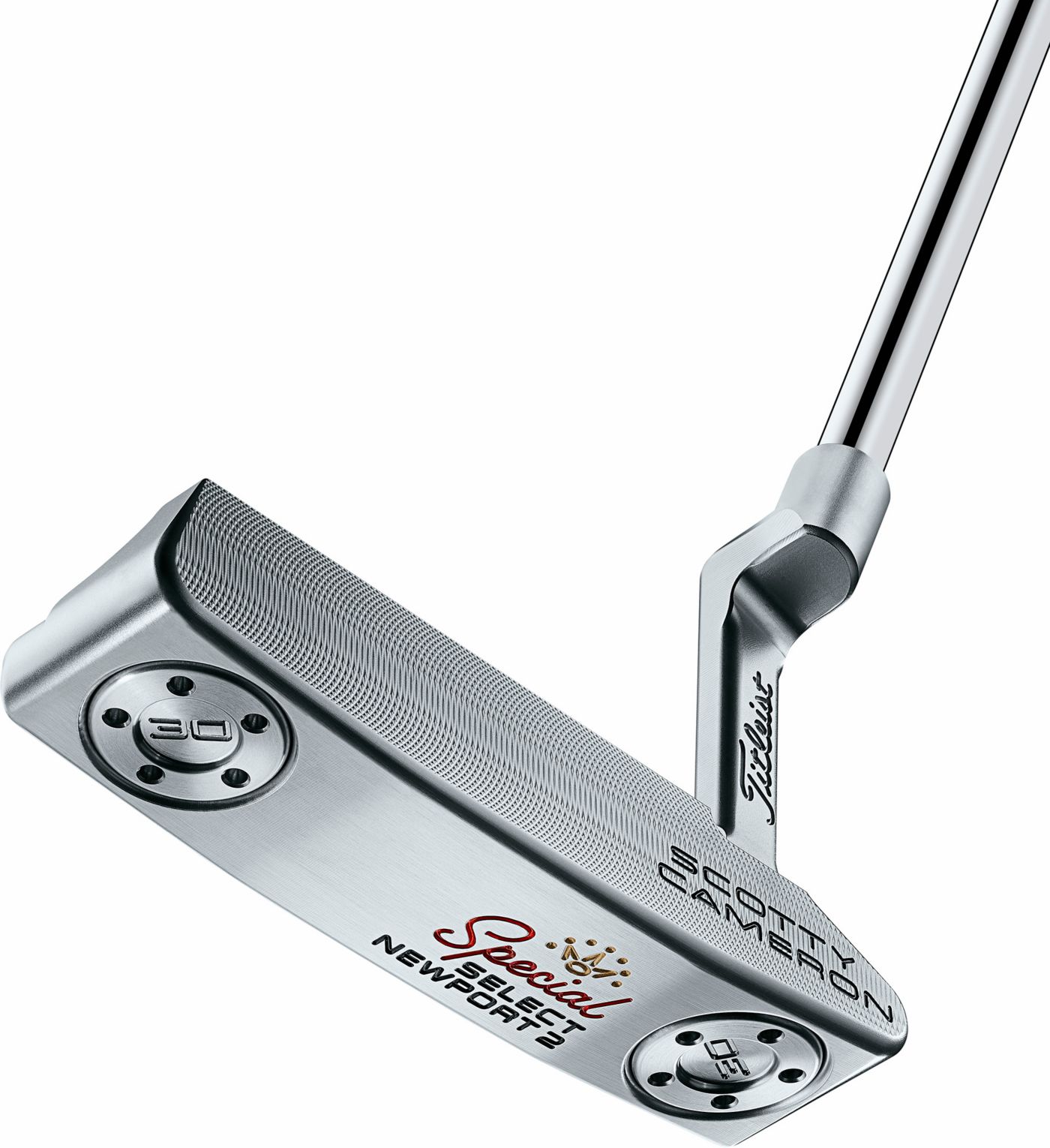 Arguably the most famous putter club head shape in the world, with scores of professional titles won, Scotty Cameron flagship model—the new Special Select Newport 2 is the closest-to-Tour setup ever offered. With refinements made to every aspect, this timeless design returns to the roots of sound and softer feel with its face insert-free, solid stainless steel putter head precision milled in the USA. Featuring a mid-face milling pattern, the iconic Newport 2 blade enters the new decade with a flatter, narrower topline, a redesigned plumbing neck, new performance balanced tungsten sole weights for a larger sweet spot and enhanced stability, as well as a new soft tri-sole design for effortless setup face balance and straight back stroke. Elegant new Tour-inspired "cherry rings" reminiscent of our legendary tournament-winning putters evolve the Select line's unmistakable three red dot back cavity theme. The Titleist Scotty Cameron is one of the best blade putter for many golfers.
SeeMore Platinum MFGP20 Putter
The Platinum MFGP20 Tour blade is a fresh new version of SeeMore's Flagship Model. The new MFGP20 brings the look of a classic heel and toe weighted blade to the FGP family with enhanced forgiveness. The MFGP20 blade offers a look of exceptional confidence at address, and is Face Balanced at Impact, meaning the putter head will remain square to the plane throughout the stroke. The MFGP20 has a beautiful Platinum finish with intricate multiple milling patterns over the entire putter, including a deep face milling for exceptional Soft Feel and Roll. Features the new "Sniper Scope" logo, representing the ultimate in Performance, Precision, straight back stroke and Exclusivity that the new Platinum Series has to offer. Striking design with lasting beauty. Straight near center bore shaft position. Full toe hang. 100% Milled in the USA of the most expensive grade of USA made 303 Stainless steel. Alignment benefits of RifleScope Technology (RST). All SeeMore Putter Models Have SeeMore's Patented RifleScope Technology (RST) Alignment System, For A True Reference Point For Perfect Alignment And Set Up On Every Putt. SeeMore was the winning putter brand of the 2015 OPEN Championship at St. Andrews (Zach Johnson), in one of the greatest clutch putting performances in OPEN History. SeeMore putters have won 3 MAJOR Championships, also including the 2007 Masters (Zach Johnson) and the 1999 US Open (Payne Stewart). Satisfaction and authenticity are guaranteed. Standard SeeMore warranty applies. One of the best stainless steel blade putters on the market.
Set Lowest Price Alert
×
Notify me, when price drops
Set Alert for Product: New SeeMore Platinum MFGP20 Putter 35" RH - $347.00
Last Amazon price update was: September 13, 2021 12:15 pm
×
Product prices and availability are accurate as of the date/time indicated and are subject to change. Any price and availability information displayed on Amazon.com (Amazon.in, Amazon.co.uk, Amazon.de, etc) at the time of purchase will apply to the purchase of this product.
TaylorMade Truss TB2 Putter
Experience ultimate stability in a superstructure design when you play the TaylorMade Truss Putter Collection. Secured by two screws located in the cavity, the Truss Collection features a cobalt blue Pure Roll insert face technology that enables incredible sound, solid soft feel and pure roll characteristics. A new Truss hosel design is engineered with two connection points to deliver greater stability and less twisting for increased sound and softer feel. Adjustable sole weights afford golfers the opportunity to dial in their perfect swing for total customization. New Truss hosel design with two connection points is engineered for greater stability and less twisting. Hosel design increases the stiffness/frequency for enhanced sound and better feel. Cobalt Blue Pure Roll Face Insert enables incredible sound, solid feel and purer roll characteristics. Pure Roll face insert is secured by two screws located in the cavity to create a bond that minimizes voids for more solid feel at impact. Best putter for many golfers. With its face inserts it gives unique looking putter design.
What Putter Should You Buy?
Golfers often choose their putter based on its looks, by hitting 10-15 putts in a pro shop, or by what is popular in PGA Tour professional's golf bags. When selecting your next putter, keep in mind that making sure it is fit for your game and your putting stroke. It is critical in getting the most out of your performance. Best putters will provide soft feel, great putting stroke and distance control.

While it is impossible to say that any one putter is best for all golfers, it is not hyperbole to say that there is 1 putter that is best for each golfer. Knowing this means that if your current gamer isn't performing to the level you think it should be, it may be time for a switch.

Blade putters are met with reverence and loyalty from golfers and club collectors. Many of them will have face inserts to improve the consistent roll and some are with milled face. Most of them will be made from stainless steel or carbon steel. Whether you are buying purely to make your game better, your putting stroke or for the sake of having a meticulously crafted work of art, make sure that you keep in mind that any putter can be built for your swing with the right knowledge. Putters tend to improve your game on the green. As always, thanks for reading about best putters and be sure to check out our blade putter in-depth reviews if you are still undecided!